I went to fit the new silencer and found, as suspected, that the holes in the mounting flange on the downpipe and extractor stub do need opening up to clear the new metric size studs. Unfortunately no one else was over today so my friends store was locked up and the only external power socket available was about 6m short of the end of the 25m lead I plugged into it. So no way of drilling out the flanges.
However I did get the silencer loosely hung on the mounting tabs below the chassis rails: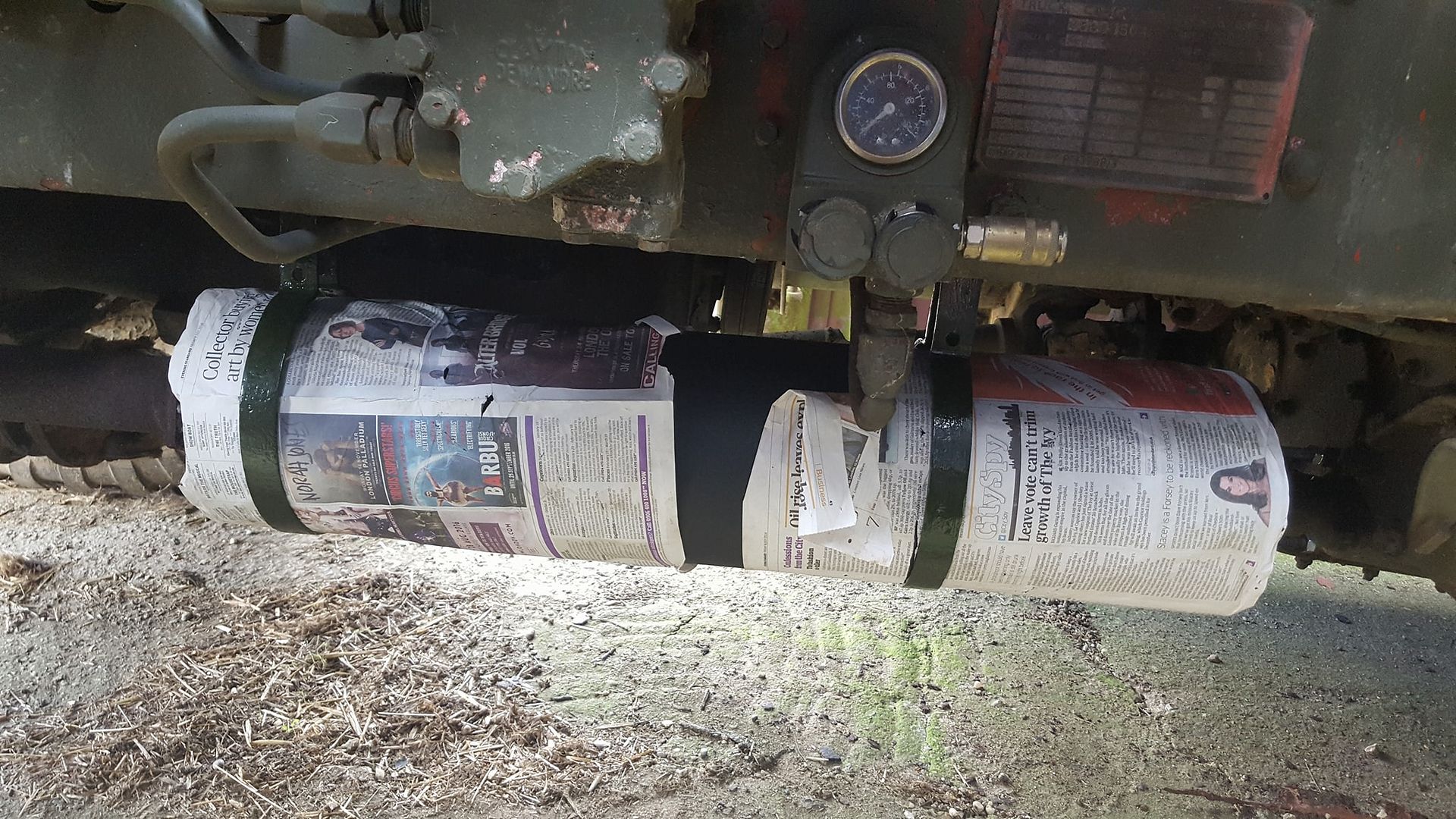 Before anyone says anything - the paper is only there to protect the paint on the silencer whilst the studs are aligned with the mounting flange on the downpipe and will be removed before the clamp bolts are fitted.
Part of the delay in fitting was that the manual says insert a rod into the opening of the silencer and if it only goes 3/4 the length then that is the "IN" port. If it goes all the way in that is the "OUT" port. Sounds simple - until I cut a length of wood down to fit in the dia of the openings and tried it - it went all the way through from both ends. So I picked one at random to be the in end. Hopefully this will not come back to bite me once it's all connected.
The bolts that held the silencer in place had been crudely cut off in the past and it proved to be a nightmare trying to get the nuts to thread properly. So I took the old 4" angle grinder down to where the power point was and proceeded to grind the jagged ends off before returning to the Militant and using the vice on the front bumper to hold each bolt in turn whilst I finish off flatting them with a file and the chamfered the edges. Once done the nuts threaded on nicely I think I need to source another pair of 3/8" UNC bolts for the clamp bolts as the originals were pretty terminal on inspection.